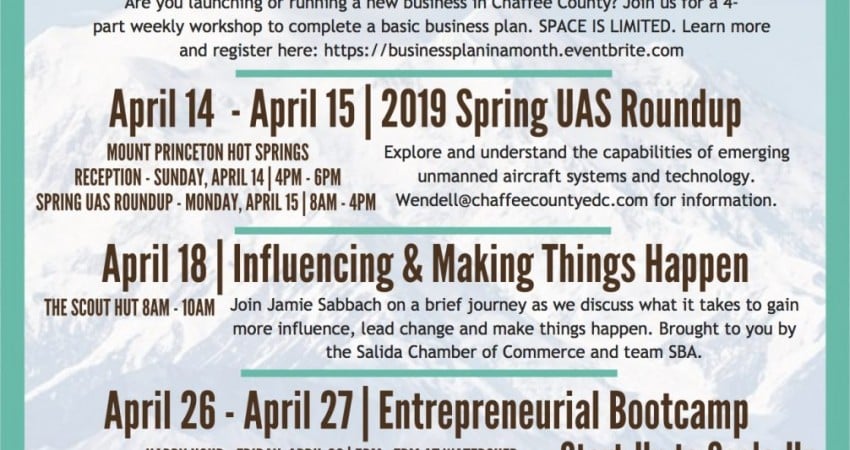 2019 Spring Business Training & Workshops
Chaffee County Economic Development Corporation in collaboration with local Small Business Development Counselors and Watershed staff work to develop relevant business trainings and workshops with a grant awarded by the State of Colorado.
2019 Spring UAS Roundup
Sunday, April 14 from 4pm – 6pm
Monday, April 15 from 8am – 4pm
Join us at Mount Princeton Hot Springs for a reception on Sunday, April 14 from 4pm – 6pm and Spring UAS Roundup on Monday, April 15 from 8am – 4pm.
Explore and understand the capabilities of emerging unmanned aircraft systems and technology. Contact Wendell@chaffeecountyedc.com for additional information.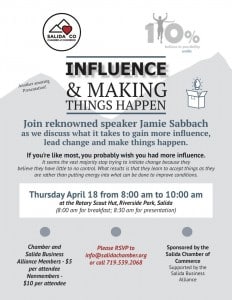 Influencing & Making Things Happen
Thursday, April 18 from 8am – 10am
The Scout Hut in Salida, CO
Join Jamie Sabbach on a brief journey as we discuss what it takes to gain more influence, lead change and make things happen. Brought to you by the Salida Chamber of Commerce and team SBA.
Entrepreneurial Bootcamp – Start Up to Scale Up
Happy Hour – Friday, April 26 from 5pm – 7pm (location TBD)
Bootcamp – Saturday, April 27 from 8am – 4:30pm at CMC BV Campus
Chaffee County Economic Development Corporation (CCEDC) in partnership with Startup Colorado, is hosting another "boot camp" aimed at entrepreneurs and businesses that are moving beyond the start up phase and looking to scale up or accelerate their business. This is high level professional training offered by two professors from the CU Leeds School of Business, Center of Entrepreneurship. It's fun and educational! REGISTER HERE.