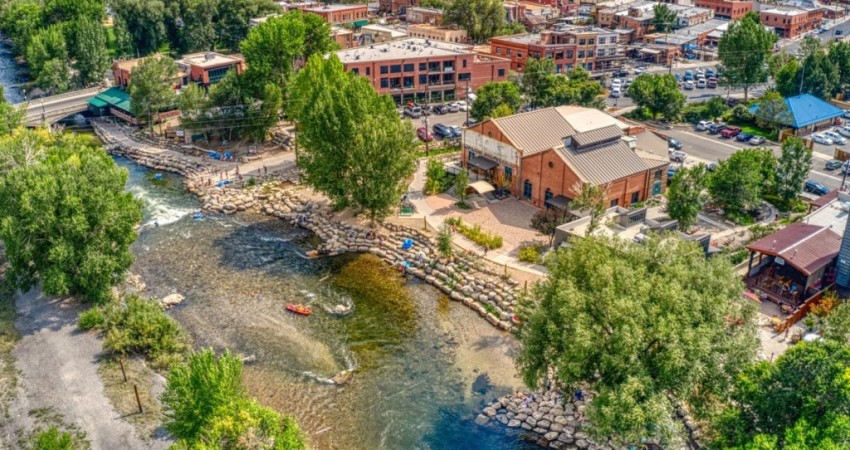 Chaffee County Named "Emerging Startup Community of the Year" by Leading Statewide Business Investment Group
CHAFFEE COUNTY, COLO. – Chaffee County–including the communities of Buena Vista, Salida, and Poncha Springs–was named "Emerging Startup Community of the Year" by the Rockies Venture Group, a leading business investment organization serving companies and communities in the Mountain West region.
The Chaffee County Economic Development Corporation, which recently created a new business accelerator in the area, called Central Mountain Ascent, received the award on behalf of the growing community of entrepreneurs, advisors, and funders that support business growth in the area.
"This award is an important recognition that something special is happening in Chaffee County," said Jake Rishavy, executive director of the Chaffee County EDC. "The fact that 10 local companies, 30 mentors, and six local investors each got on board with this effort in less than one year speaks volumes about the caliber and commitment of our business community."
The Ascent accelerator program is a two-month business growth program that leverages a network of business mentors with expertise in establishing and growing a business in rural communities. It also taps local investors to support job creation at local companies as a strategy to achieve a diversified, resilient local economy and year-round job opportunities for locals.
The local investor group, called ArkAngels, is a vital part of the overall strategy, said Rishavy.
"In Chaffee County, many successful business people that were born here, and many others who have chosen this as a place to live and invest, collectively want to see this place thrive," he said. "When presented with the opportunity, these individuals stepped up. Their willingness to support local businesses with not just investment, but also their hard-earned expertise and wisdom, is impressive."
The ArkAngels investor group, which meets monthly and invests either collectively or individually, has made its first two investments locally this summer. The group of six investors is actively seeking to grow the group to 20 accredited investor members, and encourages interested investors (and companies seeking to pitch for investment) to email info@chaffeecountyedc.com for more information.
To learn more about the Ascent accelerator, mentor network, and events, visit
www.drivenbynature.co

.

About the Chaffee County Economic Development Corporation:

Founded in 2008, the Chaffee County EDC works on behalf of private sector employers and public sector governments to develop a modern economy that rivals our unsurpassed mountain lifestyle. The EDC focuses on three primary strategies:

● Supporting entrepreneurship to build a year-round economy less dependent on tourism and visitorship.

● Developing a talent pipeline of future workforce through aligning educational institutions with the needs of employers.

● Engaging collaboratively to improve public policy on issues of importance to the business community, including housing, water, broadband, and childcare.

About Rockies Venture Group:

Rockies Venture Group is one of the most active Angel Investor networks in the country, funding 25-30 companies annually. The group runs a professional due diligence team that produces reports that are best in breed and allow RVC to syndicate with other Angel Groups across the U.S. Additionally, RVC hosts multiple investor forums across the front range, effectively pooling together a greater amount of wisdom and capital in Colorado.

—–

Media Contact:

Jake Rishavy, Executive Director, Chaffee County EDC

339 E Highway 50, Suite 103

Salida, CO 81201

(720) 231-6542

jake@chaffeecountyedc.com